Are you thinking – I need to scrap my van?
Don't pay them to take it away… we'll collect it and pay you!
If you are looking for the best deal for your old clunker, you have come to the right place! Whether you have "totalled" your van, or own a vehicle that is almost giving up, our Scrap My Car service is all you need! Our mission is to provide you with the best customer service AND the best price in exchange for your old vehicle!
We offer some of the best "cash for scrap car" deals around, and are well known by previous clients for paying great rates. Our Scrap My Car service is extremely effective because we are equipped with the right collection vehicles to tow, lift, and carry your vehicle from your home, to an authorised treatment facility or scrap metal buyer.
In addition, because we work in partnership with these services, we get great prices that can be passed on to our customers. So, we save you all the hidden costs of transporting your old vehicle, and get better prices from scrap metal buyers because we deal in bulk – so we can help you to a better deal in two ways (over trying to remove your scrap van yourself!)
We provide a very important service to our clients, but we also like to think of ourselves as helping with the safe disposal of metals and other spare van parts. We make sure that a great percentage of scrap vans will be reusable by van manufacturing companies and only deal with completely authorised treatment facilities, so we know that any dangerous components are recycled the right way!
So, if you want to make a contribution in making the world a better place AND get the best prices too – simply connect with us and we will help you realise both of those goals!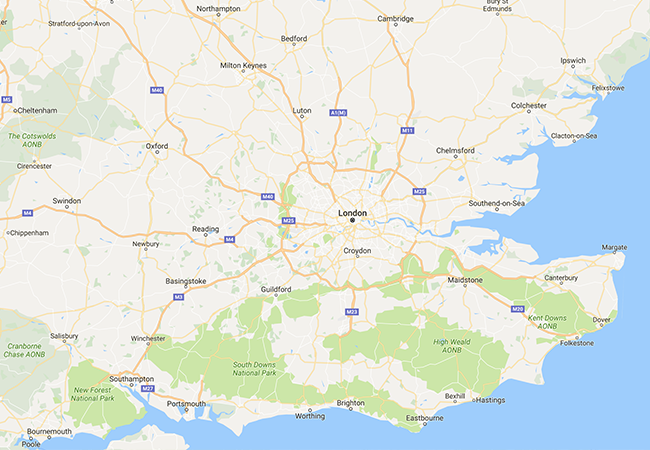 We cover all areas shown on the map above – including: London, Croydon, Dartford, Hayes, Epsom, Watford, St Albans, High Wycombe, Maidenhead, Aldershot, Crawley, Tunbridge, Maidstone, Basildon, Southend-on-Sea, Chelmsford, Cheshunt, Hemel Hempstead, Aylesbury, Oxford, Reading, Brighton, Milton Keynes, Luton, Salisbury, Guildford, Canterbury, Northampton, Cambridge and Colchester.
Why Choose Sell or Scrap My Car?
We Don't Discriminate – We love everything and anything that has four wheels and with a steering wheel. Whether you own an ageing sedan from the 1970's, or a big van that is on the verge of falling apart, we will be more than happy to collect them from your home!
No More Paperwork – The process of salvaging and scrapping a van can be a long and tedious process. We save our clients time and money when it comes to transporting and processing paperwork. If you want to get rid of your van legally and with the reward of extra cash, this is where we come in!
The Best Prices – Our focus is to give excellent cash for scrap vans deals to our clients – and we make that possible by having the equipment needed to transport scrap vehicles, and by working in partnership with scrap metal buyers (so we get the best prices and pass them on to our clients).
Simple Collection Process – Our company has been around for many years now, which means that we have the connection, manpower, and equipment to execute collection in fast and timely manner.
Quick Payment – Once a deal has been agreed upon by our company and clients, we then proceed to processing the payment for you! This means that you can get your cash upon collection of the van. Unlike other companies that offer similar scrap my van service, we pay quickly and never delay payment for clients for many weeks.
Keeping It Legal – Our service is for vehicle owners who need to scrap old, non-functional vehicles that are still in their possession. We deal with authorised treatment facilities and scrap van merchants, so you know that your van will be disposed safely and converted into useful components used in new vans.
Unique Eco-Friendly Service – Unlike majority of companies that collect old vans from clients, our objective is a noble one – to ensure minimal waste from the van we collect! For old vans that can still be salvaged, we partner with van manufacturers that need your old van, while scrapped vans and components that cannot be recycled, are disposed of according to the highest possible standards.
Extended Working Hours – We understand that it's hard to process scrapping your van on the weekdays. If you have a busy schedule, we can adjust to your availability. We even work during weekends, just to make sure that your torn van will be out of your hair before a new week starts yet again!
Great Customer Support – Apart from collecting your scrap van, we will make sure that other paperwork and activities associated with van scrapping are taken care of. While you stay at the comfort of your home, we will run paperwork through DVLA so they can issue documents proving your old van had been disposed properly. We are also responsible for the delivery of the Certificate of Destruction to our clients. Usually, we send these important document back to the clients by snail mail or emails for faster delivery.
You won't regret scrapping your old van with us!
We buy all makes of vehicle!