Scrap my car in Waltham Cross
---
Do you want to scrap your car today?
We turn cars instantly into cash – helping people upgrade their car, pay urgent bills, save for a family holiday, or even just go on a shopping spree …whatever the reason, we give the best prices and deliver the cash, fast!
We buy all kinds of vehicle

Are you thinking – I need somewhere to scrap my car in Waltham Cross?
---
Don't pay them to take it away… we'll collect it and pay you!
Sell or Scrap my Car can help you turn your car into cash – getting money to you quickly, to help you sort an urgent bill, or pay for a family holiday, or simply raise some cash for a car that you no longer want. We can take the stress of selling your car away.
Our aim at Sell or Scrap my Car is to help you get the right price for your car. Not only have we been doing this for many years, but we've got some amazing reviews from our many happy customers as a testament (4.9 out of 5 on Google) …so you know you're in good hands with us.
We welcome cars in all conditions, but ask that we know in advance of any defects so that the money we offer can be as accurate as possible. So please try to let us know if there is anything we should know about before we come to pick the vehicle up. Please fill in the form on this page and we'll make our assessment (don't forget to include photos that might help us in our decision). We will endeavour to get back to you quickly with a price, and if we can pick up the vehicle the same day, we will make sure you are paid the same day too!
---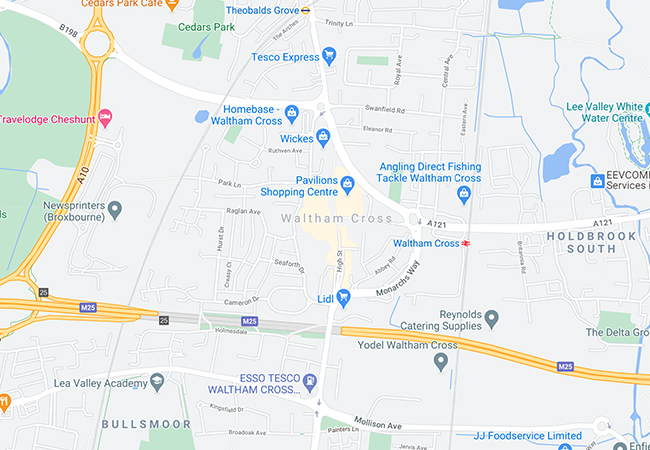 We cover all areas in and around Waltham Cross – including:
Waltham Abbey, Cheshunt Enfield, Goffs Oak, Loughton, Theydon Bois, Epping and Broxbourne.
---
---
More…
Free Car Scrap Site is a free Car Scrap Exchange site and members receive up to 70% of the value of their car when they sell it through their site. The good part? No need to go out of your way to search around for someone, or drive to a local charity shop.
Scrap My Car in Waltham Cross is an independent Charity that has been running since 1997. Its sole aim is to help people who are struggling with debts get back on track. The site's unique feature is that it provides an easy and inexpensive way for people to get rid of the burden of credit card debt by selling their car and getting a nice chunk of money off the top.
The website's database is a huge database of cars from all around the UK with pictures attached. You can then search through this database for the type of vehicle you want to get rid of. Once you've found your perfect vehicle you can enter your details, pick the price you're willing to pay and the date you're willing to sell your car.
Scrap My Car will then match your details to a car to sell with the same make and model and will contact you by e-mail when the car is available to sell for you. If you accept their terms and conditions, you will then be asked to provide them with a copy of your valid ID and proof of address before the car is sold.
It is important to remember that you are not obliged to sell at a fair market value. If you accept their terms and conditions and sell your car for less than what it is actually worth you won't receive any money from your sale. If you decide to accept the offer, you'll need to check whether they also accept other types of cars like RVs. They do accept some vehicles like this so check their terms and conditions.
One downside of the site is that if they accept a car for free but don't get it sold because they aren't able to get the value of the car then you will still have to pay for it. This can lead to disappointment in many cases. Another downside is that most people selling through Scrap My Car's site tend to only accept vehicles from the UK.
Another downside of the website is that if you don't want to accept the terms and conditions you can get around it by searching for used cars in Waltham Cross. It doesn't always take long to find cars for sale locally and many of these vehicles will be of a higher quality than those sold through their site. So, if your main concern is getting a good price then you should search locally for a car to sell. The good news is that the car's condition and mileage won't affect your decision on whether or not it's worth buying.
So, if you are interested in selling your old vehicle for a cheap price and need a good deal then the website may be just what you need. It has proved to be popular with car shoppers and is gaining popularity all the time.
As mentioned above, if you accept their terms and conditions you'll need to have your vehicle fully appraised before they will sell it. If you don't agree with what they say then you will need to find another way of finding someone who will agree with their evaluation of your vehicle.
If you accept their terms and conditions and still decide to sell at a cheap price then you may be able to negotiate a better price through the company. They may give you a reduced rate on top of what the car sells for because they know you are more likely to accept the terms if you offer to reduce your selling price.
Scrap My Car is a great way to sell your car for a cheaper price than normal. It's a convenient way to have your car sold quickly and easily from the comfort of your own home.
Where we buy our cars and vans