Scrap your van in Epping
---
Do you want to scrap your van today?
We turn vans instantly into cash – helping people upgrade their van, pay urgent bills, save for a family holiday, or even just go on a shopping spree …whatever the reason, we give the best prices and deliver the cash, fast!
We buy all kinds of vehicle

Are you thinking – I need to scrap my van in Epping?
---
Don't pay them to take it away… we'll collect it and pay you!
Sell or Scrap my Car can help you turn your van into cash – getting money to you quickly, to help you sort an urgent bill, or pay for a family holiday, or simply raise some cash for a van that you no longer want. We can take the stress of selling your van away.
We are proud to say that our customers are normally really happy with the prices and services we have to offer (with 4.9 out of 5 stars on Google). This is because we really do care about getting you the right price – and if you're not happy with what we're offering there is absolutely no-obligation.
Our valuations are based on the condition of the vans that come in to us – so while we do buy vans that are pristine, we also buy vans that are a little older or in need of some work, and we even buy some vans that might only be used for spares. So whatever the condition, make an enquiry today! If you need the money today, complete the form here (adding as much detail, and photos if possible) so that we can send you a price that reflects the condition of your van. The more information we have, the faster we can get a price to you, and the faster we can arrange for a pickup and money to be sent to you.
---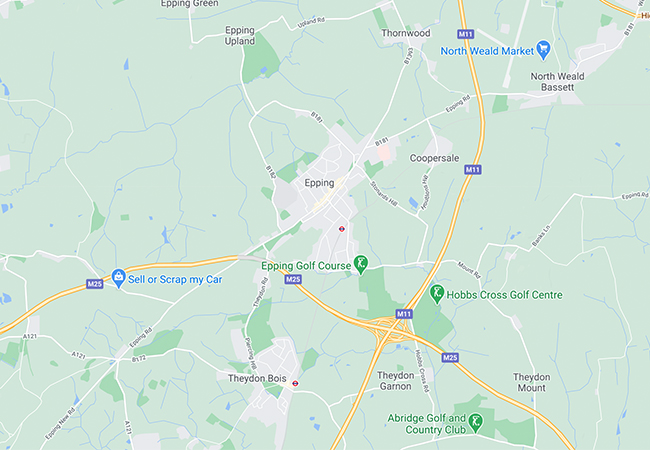 We cover all areas in and around Epping – including:
Coopersale, Fiddlers Hamlet, Bell Common, Theydon Bois, Epping Green, Epping Upland, Thornwood, North Weald Bassett, Colliers Hatch, Tylers Green, Tawney Common and Theydon Mount.
---
---
More…
Sell or Scrap my Van can help you make money getting extra money for you immediately, to pay for a long overdue bill, get money for your car or a family vacation, or just help you to sort out an urgent financial problem. Even if you're not in a hurry to sell your old van, this service can ease the stress of disposing of your old vehicle. After all, the more money you save now, the sooner you can get out of debt.
Why should you sell or scrap my van? You may be faced with the prospect of repossessing your vehicle due to unpaid fines and fees, poor driving records, a court order for a driver's license suspension, a traffic violation, vandalism, and many other situations. The good news is that most states allow you to sell or scrap my van online. Even if you're not in a rush to sell or scrap my van, you still can use this service.
It helps to keep in mind that even if you're not in a hurry, you'll still need to think carefully about what you do with your vehicle. When you sell or scrap my van online, you're helping the government take control of your seized vehicle, and the sooner you do it, the sooner you can get back on your feet financially.
If you have your own car, you don't need to worry about your insurance and taxicab insurance (or the vehicle insurance) when you're planning to sell or scrap my van online. As long as you've gotten all the necessary documents and insurance before you go online, you should be able to sell or scrap my van insurance online without any problems whatsoever.
If you're looking for an insurance broker in Scotland, all you have to do is fill out a quick form on the Internet. Within minutes, you'll have several options, which include:
A broker in Scotland will get you quotes, so you can compare the rates and coverage offered by various companies, from a variety of insurance companies. He'll be able to get you a quote within minutes, and even help you secure the best possible deal for you if your policy isn't adequate.
A broker will give you advice on how to save on insurance. Depending on what's going on with your insurance company, he can also give you information on how to reduce your premium or get extra insurance on your vehicle.
An insurance broker will also advise you on how to keep track of your premiums and protect your vehicle in the event that there are any issues with insurance. He can also inform you of any discounts that can benefit you in the future.
A broker can also help you set up a payment plan with your insurance company. He can help you secure the lowest monthly payment or get you a lower monthly premium rate for your vehicle if you're paying too much now.
Before you hire a broker in Scotland, though, you may want to check out the various other companies that are available. While they might not offer the same level of insurance, they may be more affordable for you and could provide you with the peace of mind that you need to ensure you get the most protection possible.
If you don't get all the details you need from the broker, you may end up paying more in the long run. This is why it's so important to shop around.
Brokers can be expensive. If you're serious about taking care of your insurance and driving safely, it's important to get a good price, but if you're just trying to get the best deal possible, make sure you get at least three quotations.
Where we buy our cars and vans