Sell my car in Braintree
---
Do you want to sell your car today?
We turn cars instantly into cash – helping people upgrade their car, pay urgent bills, save for a family holiday, or even just go on a shopping spree …whatever the reason, we give the best prices and deliver the cash, fast!
We buy all kinds of vehicle

Are you thinking – I need to sell my car in Braintree?
---
…it doesn't need to be a challenge!
We can help you turn your car instantly into cash, so you can upgrade to something better, or pay an urgent bill, or pay for a family holiday, or even just raise some money and go on a shopping spree. It's up to you how you spend it, but let us help you get your money, fast!
We aim to give everyone the very best price possible for their cars, and do our best to get the car picked up and the money sent on the very same day. We are really proud to say that we have received many great reviews from happy customers on Google, for whom we've been able to make that happen.
Some older cars are very much sought after, so while we do like to buy cars that are absolutely perfect, we are willing to buy an older car that needs some work too. All you need to do is give us all the details we need to provide an accurate price (explain any defects and provide some photos if possible). Complete the online form on this page and our assessors will quickly get a price back to you. To help us to do this, please provide as much detail as possible about the condition of your car (including photos if possible).
---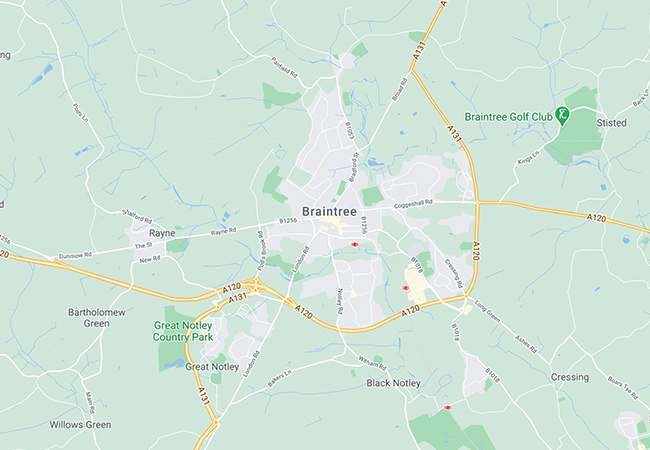 We cover all areas in and around Braintree – including:
Rayne, Bartholomew Green, Great Notley, Willows Green, Black Notley, Cressing, Silver End, Pattiswick and Stisted.
---
---
More…
When it comes to selling my car, there are many things to consider. In this article, I am going to talk about Braintree Cars in Colchester, Essex, so you can see why you should consider selling your old car locally here.
At Scrap Car Comparison you can compare the prices of new cars in the UK from dealers all over the country, including those in Braintree, Essex. No matter if you are selling your old car in Harlow or Colchester, Greys, Basildon or Braintree, you will be getting a better price and the best value for your car. You also have access to thousands of cars, so you can search all different makes and models of cars in order to find the one that suits you the best.
All you need to do is fill in a short form and submit it, and you will get back an email with a list of quotes from several companies within a few minutes. These quotes will give you all the information you need to calculate the value of your car, along with the amount it would cost to purchase it in that condition. These are very good values that are based on the condition of the car, the mileage and other factors. Because it is local, you know exactly where you stand.
If you have a car that needs repairs, you will get an email with a quote from a company called "Car Valuation Service". This is a company that has been in business for many years, providing this service to both private and public customers. They are well respected for their ability to provide accurate quotes for the value of your car.
The prices provided by this car valuation service are based on the estimated value of your car and its condition. These are the exact numbers used in calculating what you will be charged at each company.
In order to sell my car, simply fill out the online form and then submit it to both companies. They will contact you and give you a quote within just a few minutes.
There is no reason to worry about the process being difficult. This site was designed for people who need help selling cars quickly and easily.
There are many people buying cars, but you don't have to buy from them if you are looking for a cheaper deal. Braintree Cars in Colchester, Essex, can help you get your money's worth for your old car. You just need to fill out a short online form and you are ready to go!
If you have never bought your car from a local car market, it can be extremely frustrating. There are a million different deals to choose from, and there are hundreds of different car models to choose from. Not only do they not have a lot of inventory, but their salespeople don't offer much help either. When you do find a car they really want, you feel like you are being pushed around.
That is why the online world is the best. No matter what type of car you are selling, there is likely to be someone selling it in the area you are looking to move to. In most cases you will find the car in a better condition and at a better price than a dealer would be able to. offer you.
You don't even have to worry about moving from one state to another to find a buyer, because you can sell my car online. Even if you aren't close to the area, you can still sell my car right online. and you can receive the money in a few days.
All it takes is a little research and some patience, but you can sell my car at the touch of a button and get your money in your pocket in a matter of days. Just take the time to find the right company, the right price and the right way to sell my car.
Where we buy our cars and vans