Scrap your van in Cheshunt
---
Do you want to scrap your van today?
We turn vans instantly into cash – helping people upgrade their van, pay urgent bills, save for a family holiday, or even just go on a shopping spree …whatever the reason, we give the best prices and deliver the cash, fast!
We buy all kinds of vehicle

Are you thinking – I need to scrap my van in Cheshunt?
---
Don't pay them to take it away… we'll collect it and pay you!
Sell or Scrap my Car can help you turn your van into cash – getting money to you quickly, to help you sort an urgent bill, or pay for a family holiday, or simply raise some cash for a van that you no longer want. We can take the stress of selling your van away.
We are proud to say that our customers are normally really happy with the prices and services we have to offer (with 4.9 out of 5 stars on Google). This is because we really do care about getting you the right price – and if you're not happy with what we're offering there is absolutely no-obligation.
Our valuations are based on the condition of the vans that come in to us – so while we do buy vans that are pristine, we also buy vans that are a little older or in need of some work, and we even buy some vans that might only be used for spares. So whatever the condition, make an enquiry today! If you need the money today, complete the form here (adding as much detail, and photos if possible) so that we can send you a price that reflects the condition of your van. The more information we have, the faster we can get a price to you, and the faster we can arrange for a pickup and money to be sent to you.
---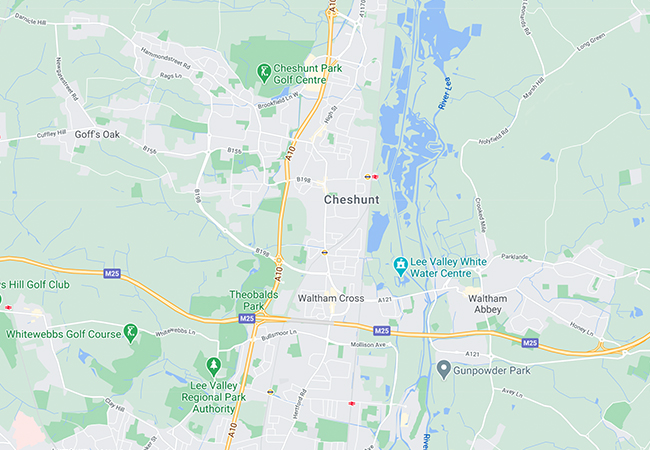 We cover all areas in and around Cheshunt – including:
Waltham Cross, Waltham Abbey, Bullsmoor, Bury Green, Churchgate, Coopers Walk, Turnford, Broxbourne, Fishers Green and Goffs Oak.
---
---
More…
Sell or Trade Scrap My Van is ideal if you need money quickly to pay off bills, sort out an emergency bill, or even just to raise some extra cash for an old van you no longer need. It can take away the stress from selling your vehicle so you don't have to worry about the price going up or down. Even if it isn't for as much money, you can make up to fifty percent more than what the current market value is.
Trade or sell my van online for free. There are many companies that offer this service and all you need to do is search around and see which companies are currently providing these services. Just make sure you research carefully and don't rush into making the final decision. If you decide to go with one company, read all of their terms and conditions and make sure you are comfortable with them before signing anything.
If you do decide to sell your van, you should be getting a lot more than you paid for it for. Some online sites will even get you free quotes on the value of your vehicle before you make the sale. You can find these quotes through the internet as well. It's important to read over the details thoroughly and see if you can afford the difference.
After making an offer, you need to make sure the company you sell to get in touch with you to get the job done. You can also get a quote from a company that is more than willing to do this.
Trade or sell my van online can benefit you in a number of ways. You can avoid paying the fees associated with taking a private seller to auction and having them take their own vehicle to the auction. You can also avoid having to pay any type of storage fees as well. Once you have the money in your bank account, you can use it on whatever it is you are looking for.
To get the most from your tradeshow transaction, make sure you are able to get a quick quote and the deal that is right for you. Don't make the mistake of not giving the company enough time to work with you before they are ready to make a decision. If you need to wait for the money to roll in, the deal might be less than ideal.
Make sure to read over the online site's terms and conditions carefully before you make an offer. You may find that there are some exclusions in these terms and conditions that would prevent you from being able to sell a certain type of vehicle. Be sure to make sure you have read through them completely before you sign up with the website. You need to have the confidence in the company to provide you with accurate information in order to have a smooth transfer of your money.
If you need money urgently, trade or sell my van online can be a great way to get the cash you need. You can still keep your vehicle and use it for other purposes if you don't need to sell it.
When you want to take your trade to another dealership, make sure you are open about your situation before they take you to one. They might have heard of other dealers who want your vehicle and ask you to sell it. It can take a little bit of negotiating before you make an offer that you can live with. You should also make sure that the price is fair enough so you don't end up owing more than the car is worth.
Don't assume that the price is fair if the trade or sell my van website doesn't show all the details you need. Make sure to request everything in writing if you need it.
Always make sure to check the vehicle out before signing any contract. Before you sign anything, check to make sure that everything is in the vehicle. Make sure it has all the bells and whistles, including a VIN (Vehicle Identification Number).
Where we buy our cars and vans