Scrap my car in Chelmsford
---
Do you want to scrap your car today?
We turn cars instantly into cash – helping people upgrade their car, pay urgent bills, save for a family holiday, or even just go on a shopping spree …whatever the reason, we give the best prices and deliver the cash, fast!
We buy all kinds of vehicle

Are you thinking – I need somewhere to scrap my car in Chelmsford?
---
Don't pay them to take it away… we'll collect it and pay you!
Sell or Scrap my Car can help you turn your car into cash – getting money to you quickly, to help you sort an urgent bill, or pay for a family holiday, or simply raise some cash for a car that you no longer want. We can take the stress of selling your car away.
Our aim at Sell or Scrap my Car is to help you get the right price for your car. Not only have we been doing this for many years, but we've got some amazing reviews from our many happy customers as a testament (4.9 out of 5 on Google) …so you know you're in good hands with us.
We welcome cars in all conditions, but ask that we know in advance of any defects so that the money we offer can be as accurate as possible. So please try to let us know if there is anything we should know about before we come to pick the vehicle up. Please fill in the form on this page and we'll make our assessment (don't forget to include photos that might help us in our decision). We will endeavour to get back to you quickly with a price, and if we can pick up the vehicle the same day, we will make sure you are paid the same day too!
---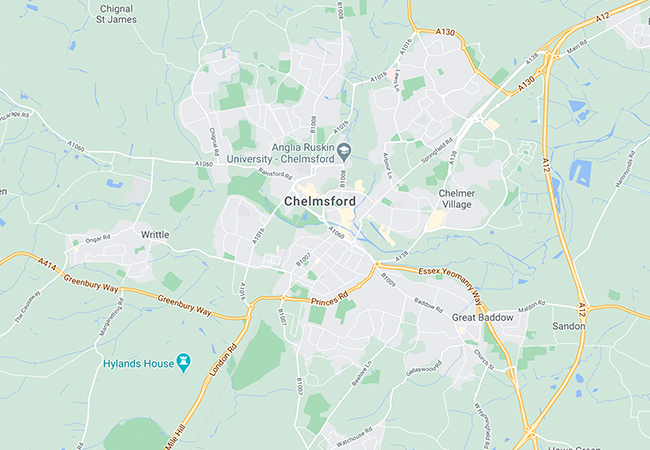 We cover all areas in and around Chelmsford – including:
Chelmer Village, Great Baddow, Sandon, Writtle, Broomfield, Parsonage Green, Springfield, Gallerywood, Howe Green and Boreham.
---
---
More…
Are you searching for a service to help you get rid of your car in Chelmsford? Why are you looking for a local scrap removal company in Chelmsford? These are all good questions to ask and if you find the answer to them, you will have a better understanding of why you are here.
"I am wondering what to do with my damaged or broken vehicle in Chelmsford?" Chelmsford Scrap Collects unwanted cars in all types of condition and even from any age, any make and any model across the whole county and the rest of the UK.
"I am looking for a local scrap removal company in Chelmsford?" Yes, Chelmsford is a thriving area and has many companies that can help you with a variety of different jobs including auto removal. Find out what is best suited to your needs now.
"How much can I expect for my car in Chelmsford?" You need to check with a local car removal company in Chelmsford before you pay and make sure you know exactly how much you are getting in exchange for the car you want to get rid of.
"What type of vehicle can I get rid of in Chelmsford?" You can get rid of your old car with a company that specializes in this kind of work. These companies can work with any type of make and model of car you might have to remove. They also have trucks and equipment that will help to make your job easier.
"How long does it take to get my car in Chelmsford?" Depending on where you live, you could get the car in just a couple days, or it could take weeks depending on how big of a contract you have.
"What happens after I have taken care of the service?" After the service is done, it is important to report the company and to take care of any other work related to the service as well. If you leave the company without reporting the work you did, they could sue you in order to get their money back.
These are just a few reasons why people in Chelmsford are looking for a local car removal company. There are also websites you can find so that you can look up the same companies and learn more about what they are capable of doing for you.
In some cases, there might be a car that is worth far more than you expected and you can sell the car in Chelmsford. This can make things a bit easier when it comes to saving money on the price you need to pay for a car.
Before you call any local car removal company, you might want to call around to see if you can find a better deal elsewhere. Some of these companies offer deals so they can get rid of your car as fast as possible.
It is a good idea to check to make sure that the company you are calling knows what they are doing and that they have all the tools needed to get the job done. You will want to make sure the company you choose is certified and insured. so if anything goes wrong during the removal of your car, they will be covered by insurance in the case of damages.
You may even want to hire a company that offers part-time work in exchange for the services that they offer. They can often times save you some money and give you the freedom to do other things when you are unable to do the work yourself. They can also help you with the paperwork that you might not have had time for before.
When you are ready to buy a new car or sell your car in Chelmsford, it is wise to check into the different options that are available. You might be able to do some serious savings if you do some research before calling a local company.
Where we buy our cars and vans