Sell my car in Waltham Cross
---
Do you want to sell your car today?
We turn cars instantly into cash – helping people upgrade their car, pay urgent bills, save for a family holiday, or even just go on a shopping spree …whatever the reason, we give the best prices and deliver the cash, fast!
We buy all kinds of vehicle

Are you thinking – I need to sell my car in Waltham Cross?
---
…it doesn't need to be a challenge!
We can help you turn your car instantly into cash, so you can upgrade to something better, or pay an urgent bill, or pay for a family holiday, or even just raise some money and go on a shopping spree. It's up to you how you spend it, but let us help you get your money, fast!
We aim to give everyone the very best price possible for their cars, and do our best to get the car picked up and the money sent on the very same day. We are really proud to say that we have received many great reviews from happy customers on Google, for whom we've been able to make that happen.
Some older cars are very much sought after, so while we do like to buy cars that are absolutely perfect, we are willing to buy an older car that needs some work too. All you need to do is give us all the details we need to provide an accurate price (explain any defects and provide some photos if possible). Complete the online form on this page and our assessors will quickly get a price back to you. To help us to do this, please provide as much detail as possible about the condition of your car (including photos if possible).
---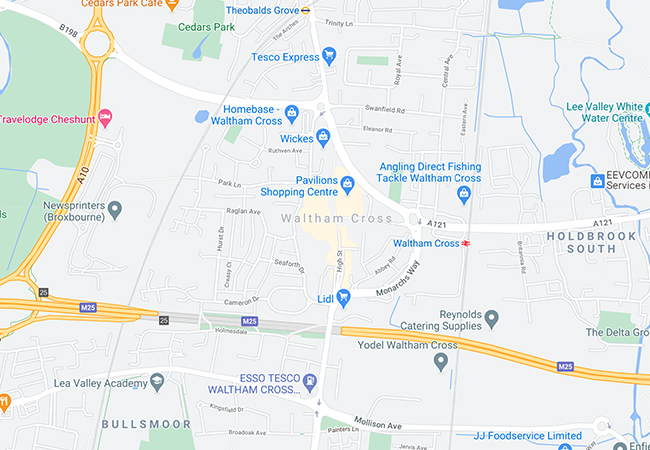 We cover all areas in and around Waltham Cross – including:
Waltham Abbey, Cheshunt Enfield, Goffs Oak, Loughton, Theydon Bois, Epping and Broxbourne.
---
---
More…
How To Sell My Car And Buy The Top Prices Paid For It? There are many people who have cars in any condition and are selling their car to buy a newer one. This can be a really lucrative business for someone who knows how to sell their car and the proper way to do it.
When you call or send out your Prestige, Antique or any other type of car information, most probably agree an immediate price, then make an immediate safe deposit to you, and further on look at all the cars available, taking note of the price you are willing to pay. Then they get to the point where they get the cars they want from the different sellers, then they call you again to ask about the cars in any condition. They then compare the cars they have to the ones you are wanting to buy and you will both agree to the price you have agreed on. You will then go over the contract with them and make sure that you both have agreed on the price that is fair, so no one is cheated.
You will go over the contract again and make sure you understand what is involved in the contract. When you receive the cars you want from the seller, you will then go ahead and inspect the cars very carefully. If you find anything wrong with the cars in any condition, you will be able to make a complaint to the seller.
After making sure that you are satisfied with the cars in any condition, you may now want to sell your car, and sell your car for good the new cars that you desire. The key here is that the prices that you had agreed on will still be fair. If you did not feel satisfied with the cars sold to you, then don't hesitate to sell your car again.
The key here is to be consistent in finding the top prices for the cars in any condition. This will make it easier for you when you sell your car. You can sell my car by using a private buyer, or a third party company who has experience in selling cars.
You can sell my car by mail, or to any company that has experience selling cars, or to a private buyer, you will still need to include some papers with the papers that the car is in any condition, because if the buyer can prove that the car is in a good condition, then it is his or her responsibility to send the money and insurance company to the seller. The seller will give you all the papers required by the insurance companies before the car is put up for sale.
Some of the companies who buy cars will give you the cars and then you will be responsible to pay for the vehicle before you take it home, which you would put up for sale. You will pay to keep the title for you and the person who buys it. They will either give you the money in a bank account or pay the money directly to the seller.
There are a number of different things that need to be done to sell my car and to sell your car for good. You should always get the information from the sellers or buyers you have bought it from. Always ask the questions you need to before buying a car, as you will need all of this information in order to sell my car for good.
Where we buy our cars and vans