Sell my car in Hertford
---
Do you want to sell your car today?
We turn cars instantly into cash – helping people upgrade their car, pay urgent bills, save for a family holiday, or even just go on a shopping spree …whatever the reason, we give the best prices and deliver the cash, fast!
We buy all kinds of vehicle

Are you thinking – I need to sell my car in Hertford?
---
…it doesn't need to be a challenge!
We can help you turn your car instantly into cash, so you can upgrade to something better, or pay an urgent bill, or pay for a family holiday, or even just raise some money and go on a shopping spree. It's up to you how you spend it, but let us help you get your money, fast!
We aim to give everyone the very best price possible for their cars, and do our best to get the car picked up and the money sent on the very same day. We are really proud to say that we have received many great reviews from happy customers on Google, for whom we've been able to make that happen.
Some older cars are very much sought after, so while we do like to buy cars that are absolutely perfect, we are willing to buy an older car that needs some work too. All you need to do is give us all the details we need to provide an accurate price (explain any defects and provide some photos if possible). Complete the online form on this page and our assessors will quickly get a price back to you. To help us to do this, please provide as much detail as possible about the condition of your car (including photos if possible).
---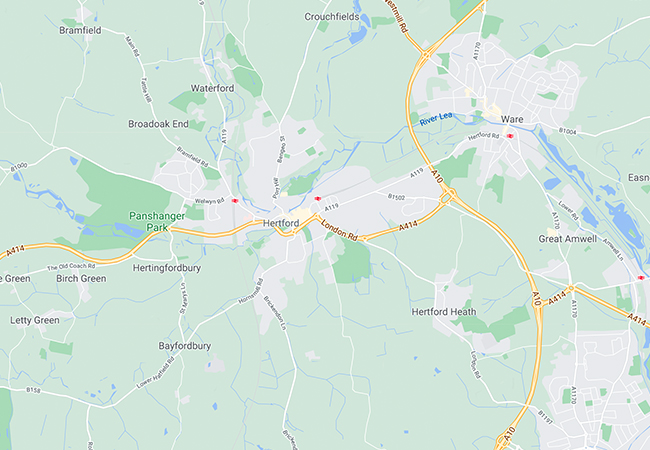 We cover all areas in and around Hertford – including:
Broadoak End, Waterford, Hertingfordbury, Birch Green, Bayfordbury, Hertford Heath, Ware, Courchfields, Bayford, Little Berkhamsted, Letty Green, Cole Green and Bramfield.
---
---
More…
If you want to find a great way to make money with the cars you own and don't need, then you should consider selling my car for Hertfordshire. There is no better place to start than at the company's official website where you can access a wealth of information about what you can sell cars for, how much they sell for, and the various options available to you.
You may be interested in collecting cars in any condition to get top prices paid for them. If you do this, you may want to look at some cars in the Hertfordshire area. You can sell your car to any number of collectors, but it is also easy to turn the collection into a profit if you look at local cars for sale.
Some people prefer to sell their cars by putting them on the auction block so that they can make money off them. These people may choose to go to the auction block on a regular basis or they may have a specific area of town that they prefer to target. Either way, the key is to have a good idea of where your car would sell for in the first place and then to find out what the minimum price is for that particular condition.
The first thing you need to decide on is what condition your cars are in. The most important thing to note is the value of the car – whether you want to sell the car in a new state or one in excellent condition. If you want to make money with your cars, you will have to know the value of your cars.
You will also need to decide what makes your car unique. If you want to sell your car in a new state, then you may need to add something special, such as a certificate, to your car, or you may want to replace some of its parts to increase its value.
You may be interested in finding out how the cars in your area sell for. It is quite easy to find out by browsing through the cars for sale section of the Hertfordshire site, although you may also find it useful to check out magazines that cover cars.
If you can locate a great place to buy your cars, then you may be able to get a great deal on them. This is another reason to visit the Hertford site, where you can get great deals and competitive prices.
You will find that the internet allows you to find out how many cars that a certain state has. or province has on offer, which means that you may be able to buy cars for the least amount you can afford. In addition to that, you will find that you can compare the rates offered by each seller to find the best deals around.
There is a possibility that you will not be able to find a lot of cars for sale in a certain area. However, there are certain ways that you can save money and still find great deals.
First, you need to make sure that the location you are looking at offers a competitive rate. Secondly, you will need to ensure that you look for sellers who will be willing to negotiate, if you are selling your car in a new state. Last, you need to make sure that the price is low enough that you will be able to make a profit.
If you want to find a great place to sell my car, you will find that there are a lot of dealers who will offer you the option of placing the car for sale in an auction. auction block.
If this is not possible, you will find that you can use an agency that will search for potential buyers for you. and bring the car to you, for a price you can easily pay.
Where we buy our cars and vans