Scrap my car in Cheshunt
---
Do you want to scrap your car today?
We turn cars instantly into cash – helping people upgrade their car, pay urgent bills, save for a family holiday, or even just go on a shopping spree …whatever the reason, we give the best prices and deliver the cash, fast!
We buy all kinds of vehicle

Are you thinking – I need somewhere to scrap my car in Cheshunt?
---
Don't pay them to take it away… we'll collect it and pay you!
Sell or Scrap my Car can help you turn your car into cash – getting money to you quickly, to help you sort an urgent bill, or pay for a family holiday, or simply raise some cash for a car that you no longer want. We can take the stress of selling your car away.
Our aim at Sell or Scrap my Car is to help you get the right price for your car. Not only have we been doing this for many years, but we've got some amazing reviews from our many happy customers as a testament (4.9 out of 5 on Google) …so you know you're in good hands with us.
We welcome cars in all conditions, but ask that we know in advance of any defects so that the money we offer can be as accurate as possible. So please try to let us know if there is anything we should know about before we come to pick the vehicle up. Please fill in the form on this page and we'll make our assessment (don't forget to include photos that might help us in our decision). We will endeavour to get back to you quickly with a price, and if we can pick up the vehicle the same day, we will make sure you are paid the same day too!
---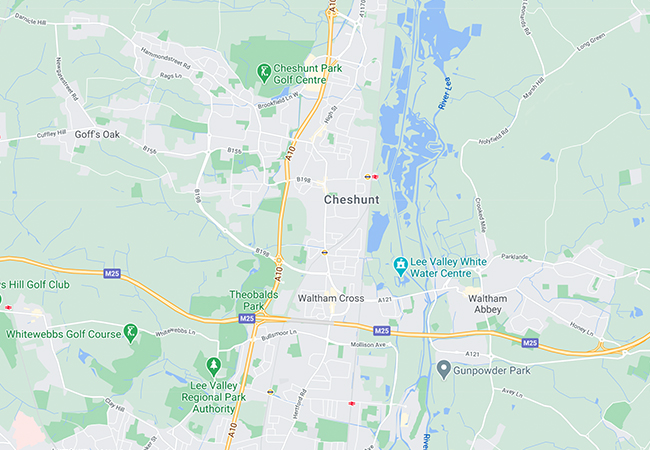 We cover all areas in and around Cheshunt – including:
Waltham Cross, Waltham Abbey, Bullsmoor, Bury Green, Churchgate, Coopers Walk, Turnford, Broxbourne, Fishers Green and Goffs Oak.
---
---
More…
If you are considering a free car and van removal service, you should definitely check out Cheshunt. Cheshunt offers a variety of services to help you with getting rid of your unwanted junk cars. Here are some services that can provide you with a free auto removal service:
Unwanted Car and Van Recovery: If you are someone who live in the mountains and need to get rid of your junk car quickly, there is no better place than Scrap My Car and Vans. Scrap My Car and Vans will take care of your junk car removal and storage for free! You can then have your vehicle picked up at your desired destination and will have it towed to a safe location.
Damaged Car and Van Collection: If you have had an accident with your vehicle, or if you simply just don't like the color, there are companies out there that specialize in taking care of damaged cars and vans. You can have your damaged car or van collection picked up for free and you'll have to pay to pick it up. However, you won't have to worry about your vehicle being damaged or needing any repairs done.
Damaged Car and Van Pickup and Storage: If you're looking to dispose of your damaged vehicle, but you do not want to spend too much money on a tow truck and towing service, you can still have your car towed to a storage facility. You can then pay to have your car or van towed for as long as you want. All you have to do is make sure that the company you hire has a working agreement with the local authorities to transport cars.
Car and Van Removal Services: This is another service that will help you get rid of your junk car. If you have a vehicle that you really don't want anymore, you can try selling it online or through a local newspaper. However, if you don't like the way that your car or van looks after you've sold it, you can hire the services of a local car removal company to take care of it.
Free Car and Van Transport Services: If you're going to sell your vehicle in a local area, this is a great way to get your vehicle picked up quickly and safely. It is also very convenient for someone who wants to sell their car in another part of the country. You can also use this service for people who live in a rural area and cannot afford to hire a local moving company.
Car and Van Pickup and Storage: If you've found a nice used car that you want to purchase, you can rent a storage facility where you can keep your car until you find a buyer. You can also use a facility that provides a storage facility for cars if you have multiple vehicles. With a facility that provides a storage facility, you won't have to worry about storing your vehicle in your driveway.
Car and Van Cleaning Services: If you have a car that you no longer use, you can use the services of a reputable company that offers cleaning and maintenance services. A company that offers cleaning services for vehicles can help you get rid of your junk cars for free! A company that offers these services can clean your car and then re-sell it if you're unable to purchase it.
Car and Van Disposal Services: Sometimes you need to dispose of your car. For example, if you live in an apartment building and have a small vehicle, you can ask the manager to send your vehicle to a car disposal company. This service can help you get rid of your car or van quickly, without spending too much money on a storage facility or if you're unable to sell your vehicle.
The best part of using a car and van removal company is that most of these companies will give you a certificate that states that the vehicle has been properly disposed of. This means that no one else will know that you had a car or a van and you can avoid the possibility of having your identity stolen if the person who owns your vehicle decides to sell it or pawn it.
There are plenty of different ways that you can use these services; you just have to look around and find a company that is reliable and reputable so that you can get rid of your unwanted vehicles quickly and efficiently. You can even find companies that provide this type of service in all parts of the country.
Where we buy our cars and vans