Scrap my car in Epping
---
Do you want to scrap your car today?
We turn cars instantly into cash – helping people upgrade their car, pay urgent bills, save for a family holiday, or even just go on a shopping spree …whatever the reason, we give the best prices and deliver the cash, fast!
We buy all kinds of vehicle

Are you thinking – I need somewhere to scrap my car in Epping?
---
Don't pay them to take it away… we'll collect it and pay you!
Sell or Scrap my Car can help you turn your car into cash – getting money to you quickly, to help you sort an urgent bill, or pay for a family holiday, or simply raise some cash for a car that you no longer want. We can take the stress of selling your car away.
Our aim at Sell or Scrap my Car is to help you get the right price for your car. Not only have we been doing this for many years, but we've got some amazing reviews from our many happy customers as a testament (4.9 out of 5 on Google) …so you know you're in good hands with us.
We welcome cars in all conditions, but ask that we know in advance of any defects so that the money we offer can be as accurate as possible. So please try to let us know if there is anything we should know about before we come to pick the vehicle up. Please fill in the form on this page and we'll make our assessment (don't forget to include photos that might help us in our decision). We will endeavour to get back to you quickly with a price, and if we can pick up the vehicle the same day, we will make sure you are paid the same day too!
---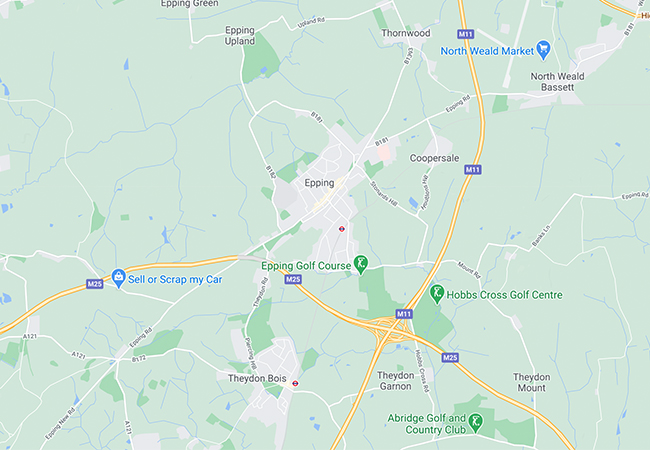 We cover all areas in and around Epping – including:
Coopersale, Fiddlers Hamlet, Bell Common, Theydon Bois, Epping Green, Epping Upland, Thornwood, North Weald Bassett, Colliers Hatch, Tylers Green, Tawney Common and Theydon Mount.
---
---
More…
If you are looking to have your car scraped from the curb, you can head to Epping for the best scrap car prices. Scrap cars are a great source for car owners who want to sell their unwanted vehicles but don't want to spend a lot of money. With scrap car prices going down, it may become even easier to find the right car for you.
Epping has become the newest place for scrappers to sell their unwanted vehicles. With the help of the internet, people can now use online classified ads to get the information they need about the cars they want to have scraped from the curb. The first thing to do when trying to sell your car online is to look into the different websites that will allow you to post a classified ad. There are a number of different websites that allow you to post these ads.
Once you have chosen which website you would like to use, it is time to contact the company that you want to have your car scraped from the curb in Epping. If you are not sure of how to contact them, you can simply use their phone number to call them and ask them questions.
Once you find the right scrapper in Epping, the next step is to explain the condition of your car. You should also mention where you want the vehicle scraped and any other details about the vehicle. This way, you can make sure the person you choose is a good match for the job and will take good care of your car while it is on site.
While some scrappers may be happy to take your vehicle off their hands, others may not be willing to do so without something in return. If this is the case, you should simply offer your scrap car for sale and ask if they are interested in taking it back. Most scrappers are more than willing to take vehicles that are in good shape and can also accept other items for payment such as used tires or other parts of your car.
The best way to ensure that your car will be taken back is by offering a vehicle in good working condition. If you are selling a lemon, it may be difficult to get your car scraped, but there are companies out there that may be willing to take it back. If you decide to give up your car, don't forget to include all the receipts that have been given to you for repairs that were needed, such as the gas and oil change receipts.
As mentioned above, Epping is becoming a popular place for car scrappers to get their vehicles scraped. When you visit the area, you will want to try to see the many cars available for the best scrap car prices. This way, you can find a vehicle to suit your needs, no matter what they are.
When you visit the area in question, you will find that Epping is a very convenient place for scrappers to come to and get their car scraped. After visiting, you may find that you can no longer stand the thought of leaving your car in the driveway, so take a look at what is available in this area.
Because Epping is one of the most popular areas for car scrapers, you may be surprised at the number of vehicles for sale. You may be able to find the car of your dreams if you put some effort into your search.
Even though you may have a great vehicle for sale, you need to ensure that you take all the proper steps when purchasing. You need to make sure that you do enough research on the car to ensure that it is the right one for you.
Some people decide to sell their car to scrap dealers, but other people will do their own research. There are a number of ways that you can sell your car in Epping, but you need to be sure that you take the proper steps before you do anything. Otherwise, you may end up regretting that you didn't take the time to do a little research first. Remember that the best way to make sure that you get a great deal when buying or selling your vehicle is to take the proper steps when searching for it.
Where we buy our cars and vans