Scrap my car in Hertford
---
Do you want to scrap your car today?
We turn cars instantly into cash – helping people upgrade their car, pay urgent bills, save for a family holiday, or even just go on a shopping spree …whatever the reason, we give the best prices and deliver the cash, fast!
We buy all kinds of vehicle

Are you thinking – I need somewhere to scrap my car in Hertford?
---
Don't pay them to take it away… we'll collect it and pay you!
Sell or Scrap my Car can help you turn your car into cash – getting money to you quickly, to help you sort an urgent bill, or pay for a family holiday, or simply raise some cash for a car that you no longer want. We can take the stress of selling your car away.
Our aim at Sell or Scrap my Car is to help you get the right price for your car. Not only have we been doing this for many years, but we've got some amazing reviews from our many happy customers as a testament (4.9 out of 5 on Google) …so you know you're in good hands with us.
We welcome cars in all conditions, but ask that we know in advance of any defects so that the money we offer can be as accurate as possible. So please try to let us know if there is anything we should know about before we come to pick the vehicle up. Please fill in the form on this page and we'll make our assessment (don't forget to include photos that might help us in our decision). We will endeavour to get back to you quickly with a price, and if we can pick up the vehicle the same day, we will make sure you are paid the same day too!
---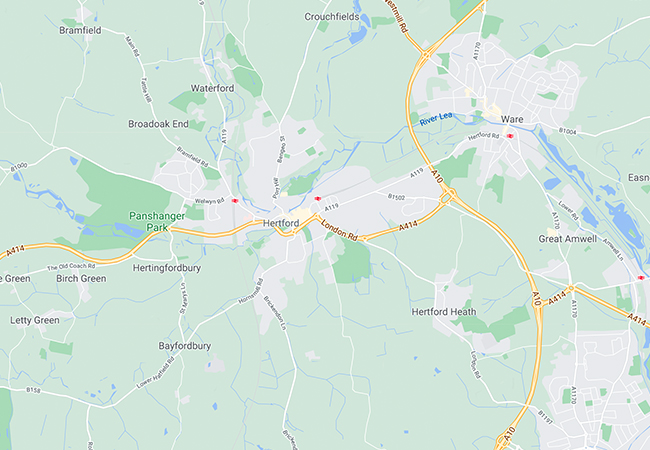 We cover all areas in and around Hertford – including:
Broadoak End, Waterford, Hertingfordbury, Birch Green, Bayfordbury, Hertford Heath, Ware, Courchfields, Bayford, Little Berkhamsted, Letty Green, Cole Green and Bramfield.
---
---
More…
There are so many people out there who want to sell their old car and for very good reasons. However, before you do, you need to ensure that you get your money back and you can. To sell your car at the lowest price, you need the lowest possible price from a car trader, this is where Scrap My Car come in, you need to get the lowest possible price, but what do we mean by the lowest possible price?
We offer you the lowest price from any car trader in the country. You need the lowest price, not the lowest price from anyone else. That is because we know that the best thing that you can do when looking to buy a used car is look around at the different car traders and take in what each one has to offer you. You can get a lot of good value for money, so it really does pay to look around and see what each one has to offer.
The best way to sell a used car is to make a low down payment, and then use that money to purchase the car you want to sell. This works well for many people, especially people on low incomes. Because there is so much competition from the car traders, people can sell their car and make a low down payment with a broker and the rest can be taken care of by the car trader themselves.
There are other ways you can sell your used car as well, which is the first option. You could set up a website, get it set up, hire a graphic designer, put a picture and then sell it online, for example. However, if you want to sell the car quickly, it really does not matter how long it takes you, just so long as you are getting the lowest price and the most value for money.
Scrap My Car can help you achieve this, by putting you in touch with the car traders and offering you a fast, easy way to get your used car sold quickly and easily. With us, there are no hidden fees, and no time-consuming paperwork to deal with, and everything is explained to you from the start, ensuring that you get the lowest possible price for your car.
We are not in the car trader business and are independent, so we are able to find the cheapest prices and deals for you. The great thing about using us is that we have a team of people who can find you the cheapest prices possible for your used car, based on a number of factors, including your location, mileage and the type of car you want to sell.
For example, we find car traders based all over the country, so our searches are made quicker, allowing us to provide you with the cheapest deal for your car. We also look at the type of car trader they are, and the car trader they are.
When you find a car trader who is reputable, you are able to check their background and experience through checking out the car trader's history. They will be able to give you a quick breakdown of what to expect from them when you sell your used car to them. Our expert advice will help you make a quick decision and sell your car without going through the hassle of having to deal with the car trader yourself.
We also use our experience to ensure that the car trader has excellent customer service. This is something that many car traders do not offer, so it is really important to get the best.
Once you sell your used car to us, we can arrange the transport and delivery of the vehicle to the new owner. Your vehicle will be picked up from you house or the car trader's premises and driven to the new buyer, so you don't have to be left waiting for days or even weeks before the buyer can pick up the car.
We can even arrange insurance on your used car, ensuring you get a good deal on a good price. In short, if you want to sell your used car quickly and effectively, then sell it to us and we can get it done fast.
Where we buy our cars and vans