Junk car buyers in Enfield
---
Do you want to sell your junk car today?
We turn cars instantly into cash – helping people upgrade their car, pay urgent bills, save for a family holiday, or even just go on a shopping spree …whatever the reason, we give the best prices and deliver the cash, fast!
We buy all kinds of vehicle

Do you need a junk car buyer in Enfield?
---
Sell or Scrap my Car can help you turn your car into cash – getting money to you quickly, to help you sort an urgent bill, or pay for a family holiday, or simply raise some cash for a car that you no longer want. We can take the stress of selling your car away.
Our aim at Sell or Scrap my Car is to help you get the right price for your car. Not only have we been doing this for many years, but we've got some amazing reviews from our many happy customers as a testament (4.9 out of 5 on Google) …so you know you're in good hands with us.
We welcome cars in all conditions, but ask that we know in advance of any defects so that the money we offer can be as accurate as possible. So please try to let us know if there is anything we should know about before we come to pick the vehicle up. Please fill in the form on this page and we'll make our assessment (don't forget to include photos that might help us in our decision). We will endeavour to get back to you quickly with a price, and if we can pick up the vehicle the same day, we will make sure you are paid the same day too!
---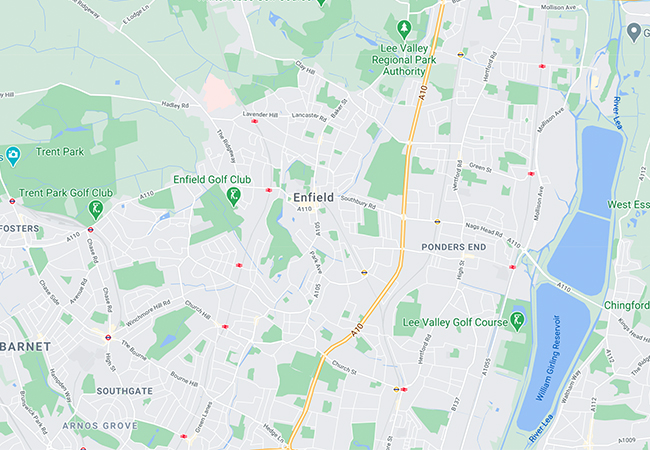 We cover all areas in and around Enfield – including:
Waltham Cross, East Barnet, Palmers Green, Arnos Grove, New Southgate, Bush Hill Park, Chaseside, Brimsdown, Clay Hill and Worlds End.
---
---
More…
Junk car buyers in Enfield are an all round beneficial to the community. The large amount of scrap metal and batteries that are brought up from the streets of London is not just dumped on the local roads, but also picked up and recycled by companies like Junk Car Masters. They then sell the materials to auto recyclers in London who use them to make new cars. Essentially, these auto recyclers are making the very same profits as the car buyers themselves.
Junk car buyers in Enfield benefit in a variety of ways from the recycling of the material. Because the batteries and salvaged components are still in very good condition, they can be used again in the production of a new car today. In fact, this is what makes the spare parts so appealing for people who have a passion for restoring or customizing old cars. You can always tell when someone is looking to restore a car because they are always interested in finding and purchasing used auto parts. As a matter of fact, many mechanics actually take the opportunity to do a used car restoration after seeing someone restore an old vehicle.
The auto industry is a billion dollar a year industry and is responsible for the manufacturing of thousands of jobs. Therefore, it is important that we find ways to recycle scrap material and to reuse what we can. As a result, many auto recyclers in London are willing to pick up used auto parts from homes and businesses and help us find ways to recycle scrap material and make a profit in the process. In addition, they often offer a cash discount for the parts which makes it even more attractive for people to donate old auto parts.
In fact, there are many benefits to donating your old auto parts instead of selling them. Perhaps one of the most appreciated benefits is the cash incentive. If you opt to donate your car's fire damage, engine repair or metal restoration then you may be able to get up to 50% of the retail cost of the part. Not only that, but you may also receive free junk car removal in London for the rest of your life. This certainly will put some money back into your pocket.
Another benefit to donating your old junk car is that you will help save the environment by not allowing more pollution to pollute our planet. As we all know, the air we breathe and the water we drink are precious. We need to conserve what we are given in this world and choosing to donate your old junk cars helps us do just that. Many times, we all have the urge to either throw something away that no longer serves any purpose or we have a need to rid ourselves of something we no longer need. Either way, we need to think about how we are going to best help relieve the pollution in our world.
If you're unable to come to a conclusion as to what to do with your old vehicle then contacting local junk car removal services in London is the next logical step. If you choose to donate your car then you can expect a free consultation where they will look at the car and advise you on how best to remove it. They will take all the necessary steps to ensure that you do not receive any liabilities from removing the vehicle or damaged parts, or worse yet, causing even more damage. After the car is removed safely from your property, you will be allowed to keep the parts. You can even keep the title and pay a small fee for an insurance policy that covers you if anything should happen to the vehicle while it is in their care. There are many reputable companies that offer junk car removal services in London.
Where we buy our cars and vans